Writing the Midwest: A Symposium of Scholars and Writers
The Annual Symposium of the
Society for the Study of Midwestern Literature
May 28-30, 2024
Kellogg Hotel & Conference Center, East Lansing, MI
Join us in East Lansing as we meet again to celebrate Midwestern literature, scholarship, and writing.
SSML welcomes proposals for individual papers, posters, panels, and roundtables on Midwestern literature, and reading of creative work with a Midwestern emphasis. Please plan on fifteen minutes for creative and scholarly presentations. 
To submit individual proposals, please use the
2024 SSML INDIVIDUAL Proposal form.
To submit panel proposals, please use the
2024 SSML PANEL Proposal form.
PROPOSAL DEADLINE
Midnight, January 15, 2024 (US eastern time zone)
STUDENTS
If you are currently a student, please email SSML treasurer Roger Bresnahan (rogerbres@gmail.com) to apply for a Wydeven Travel Support Scholarship. Students must apply for the travel scholarship by January 15, 2024.
QUESTIONS?
See Additional Information below (including membership dues and registration fees). For questions, contact the conference organizer, Jeff Hotz (jhotz@esu.edu).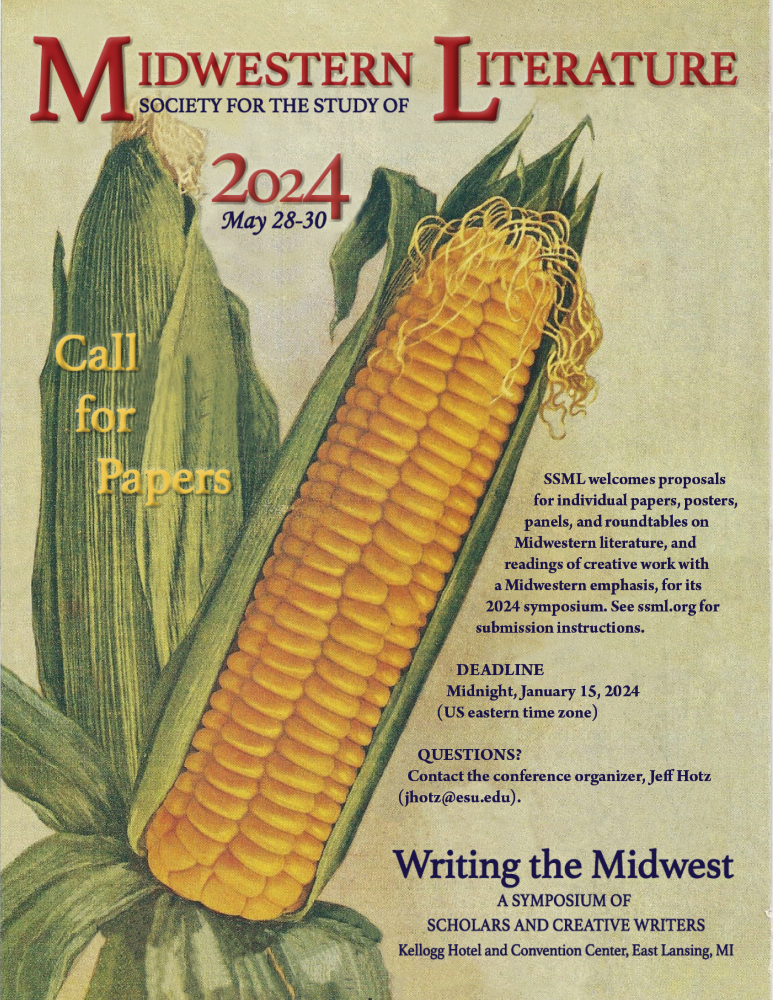 MEMBERSHIP
All presenters must be members (or must become members) of the Society. Annual membership dues are $50 ($25 for students). Participants may join SSML at any time through the Membership/Conference page of this website. 
CONFERENCE REGISTRATION
Symposium registration will be available through the Membership/Conference page starting February 15, 2024. Registration fees are as follows:
Presenters = $125
Student presenters = $40
Non-presenters = $25
Society membership is not required for non-presenters. Scholarship recipients are exempt from the registration fee but must pay the membership fee. 
Awards Luncheon
The Society hosts an awards luncheon during each year's symposium to celebrate the winners of its annual awards and writing prizes. Symposium participants may purchase a ticket to the awards luncheon ($35) when they register.
PRIZES
The Society offers monetary prizes for the best creative work and literary criticism read at the conference. Scholarly papers presented at the conference may be submitted for inclusion in one of the Society's peer-reviewed publications, MidAmerica and Midwestern Miscellany. There is also a prize for student work.
BOOK DISPLAY
A longtime feature of this conference is an informal book display and sales area begun by poets who brought their chapbooks to display, exchange, and sell to one another.
LODGING
SSML reserves a limited block of rooms at the Kellogg Hotel & Conference Center at a discounted rate for SSML symposium participants. Please contact the Kellogg Center (517-432-4000) to reserve your room.
AUDIOVISUAL EQUIPMENT
AV options will be limited. Please let Jeff know right away. THIS IS CRUCIAL INFORMATION FOR SCHEDULING!